3 Steps to Start Collecting Donations with BluePay on Your Website.
1) Download Lifeline Donation Pro
2) Get This BluePay Extension
3) Follow the Installation Video Tutorial
Here's one of the few payment processing solutions that offer special features for the nonprofits to boost up their fundraising.
Securer, easier, more versatile, and more donor-friendly are some of the specialties highlighting what BluePay gateway extension could do for you.
Provide your donors with all the options from credit/debit cards to ACH payments, and eCheck processing, and more.
What Makes It a Perfect Fit for Your Charity:
Versatile payment options – from cards to EFT to ACH and eChecks
Supports mail and telephone credit card processing
"Unbundled" fee packages to save you on transactions
Automatic "Recurring Donations" – No add-on needed
Plug and play EMV processing solutions
Economical direct bank transfers
Also, collect donations from abroad
PCI DSS (Payment Card Industry Data Security Standard) against fraud
First Data online payment – accept credit/debit cards & electronic checks
Customizable donations form – simplify it to extremity.
Option included to set "Giving Frequency" for recurring donations
Pre-integrated into the best donation plugins and WordPress theme
A well-documented product
Regular BluePay extension updates with automatic installation
Top-rated Customer Support from Webinane (Elite Author)
Automated Recurring Donations:
You can convince your donors to make recurring donations – say for a small amount – by providing them with lots of easy, preferred payment options.
The flexible "giving frequency" will further inspire them to go for recurring donations.
And when you are recurring automated repeated donations after regular intervals, you are indirectly reducing marketing costs to collect lifeblood for your nonprofit organization.
Turn "Sometimes" Donors into "All-time Supporters" with Several Convenient Payment Options:
Care for the choice of your donors for their most preferred payment method.
They will start carrying about your cause and become all-time supporters. And they also have the option of 'recurring donations' to go ahead with their decision/mission.
BluePay gateway extension provides lots of flexible and convenient payment option for each of your donors – contributing more or less – in the US/Canada and abroad.
The supported payment methods include: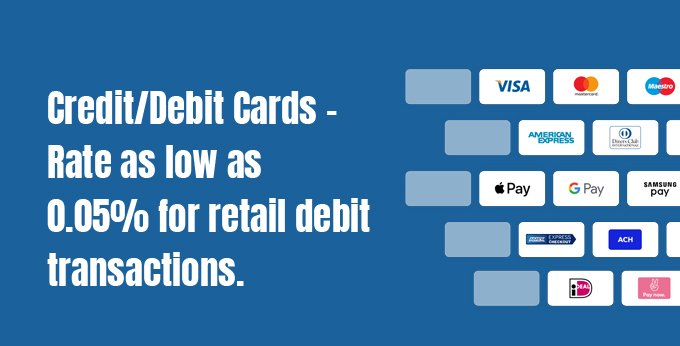 Credit/Debit Cards – Rate as low as 0.05% for retail debit transactions.
ACH (Automated Clearing House)
MOTO (Mail Order/Telephone Order)
EFT (Electronic Funds Transfer) payment
Internet payment gateway – robust (schedule/on-demand) reporting, return processing, batch uploading, etc.
BluePay's virtual credit card machine (safe, efficient authorization without upfront costs)
eCheck payment processing
Several EMV (Europay, Mastercard, VISA) payment solutions
Plug and play EMV processing with Virtual Terminal, BluePay Form, browser-based form, etc.
Datacap NETePay/TranCloud EMV payment processing
Mobile EMV for iOS and Android devices
Clover Go for dipped, tapped, or swiped transactions on the go
First Data online payments with numerous options for POS terminals, etc.
Make It Ultra-Convenient for Donors to Contribute via EFT:
Available for both online and offline marketplaces, the electronic funds transfer (EFT) payment facility is gradually moving to the top of the convenience list.
In addition to exploiting BluePay's financial institutions for EFT, the gateway gives you the option to use your favorite bank for this purpose.
The supported banks include Bank of America, Citizens Banks, Chase, Capital One, U.S. Bank, PNC, Wells Fargo, MB Financial, and ACB Bank, etc.
What Else You Need to Avoid Integration
A compatible plugin and a supported WordPress theme can help you to avoid any integration related job and quickly set the BluePay gateway extension to work.
Lifeline Donations (Free)
Available for 
free download,
Lifeline Donations (optional) extension is compatible with both the BluePay gateway extension. It's an advanced, comprehensive, and fully customizable online donations management system.
Supported WordPress Theme
Lifeline2
 is the supported premium charity WordPress theme for BluePay payment gateway extension. It's also one of the world's best nonprofit themes, already powering over 900+ charity organizations.